By Pippa Jack, This article is reprinted with permission from The Block Island Times.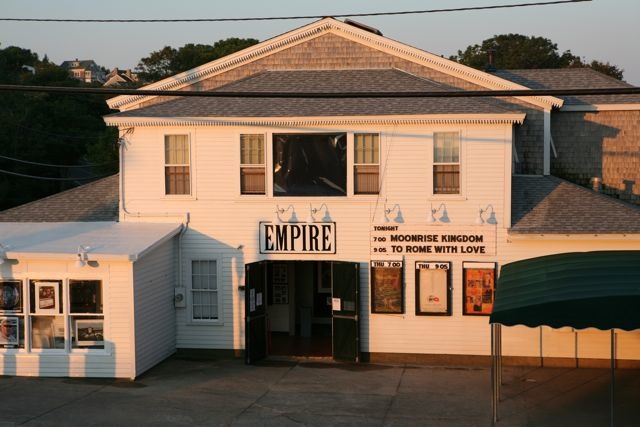 He's not giving up on the place yet: Gary Pollard has decided to try to raise the $70,000 or so it will take to switch the Empire Theatre to digital equipment, and he's going to ask his customers to help him.
Changing industry standards mean the phasing out of traditional 35mm projec- tor systems, which must be replaced with digital projectors within the next two years if theaters wish to show current films. It's a big blow to small independent theaters like the Empire, and many are projected to close.
But Pollard says he's been touched by offers of support from island residents who read that the Empire could close in a late July B.I. Times article — and inspired to try to raise the money he needs to keep the historic theater's doors open. "After the B.I. Times piece came out, many people approached me very concerned about the fate of the Empire and I received many offers of support," he said. "Along with my own passion for the place, this show of support made me feel we have to keep the theatre alive."
One big bonus of switching to digital: the equipment will be a lot easier to run, so he could delegate the work to an employee after returning to New York. That means, he says, the theater could stay open longer — maybe even six months of the year.
Movies at the building, which was built as a roller skating rink, have long been an important summer institution on Block Island.
"When I bought the Empire I was taken in by something magical about the place," New Yorker Pollard says of his decision, 20 years ago, to buy the building. "I never had thought of restoring an historic theatre, or of operating a theatre, but bringing back the place to life is what drove me. I don'te it become a retail shop or restaurant."
Pollard says he didn't at first think it would be realistic to try to fundraise for a private business, and so only this week decided to go for it. So there'll be no events this summer — he and his wife Jessica have to get back to put the kids in school — but he's working on getting an online fundrais- ing campaign together.
"I wish I had started sooner, but I plan to do an online campaign, using our website and maybe through crowd funding," he said. "I'm not sure an event will be held. If so, I guess it would be next summer."
What would be kept alive by keeping the theater running? "One of my favorite things about the theatre is standing just inside the auditorium doors and listening to people's comments to one another about how cool the theatre is as they first enter," he says. "Sometimes I forget how special the place is, but I'm reminded of it when I see many people taking pictures of the interior, or of themselves inside the theatre. It's very gratifying to know you've given people an enjoyable experience, through both the unusual setting and watching the movie."
Pollard isn't the only one who thinks the place is special. The cinematreasures webite lists this comment from Gerald A. DeLuca: "In 2003 when I saw Freaky Friday here to a packed house of all ages, this place gave me the feeling, lost for so long, of what it had been like going to a local single-screen movie theatre as part of a community. With the almost Draconian restrictions against "development" rightfully promulgated by conservationists, here's the last place in the world you will ever see a multiplex, and I say whoopee to that!"
For more info about the Empire Theatre go to: cinematreasures.org/theaters/6419, and the Empire's soon to be launched site, empiretheaterblockisland.com.