By Margie Bucheit | Jul 01, 2013
This article is reprinted with permission from The Block Island Times. Photo by: Kari Curtis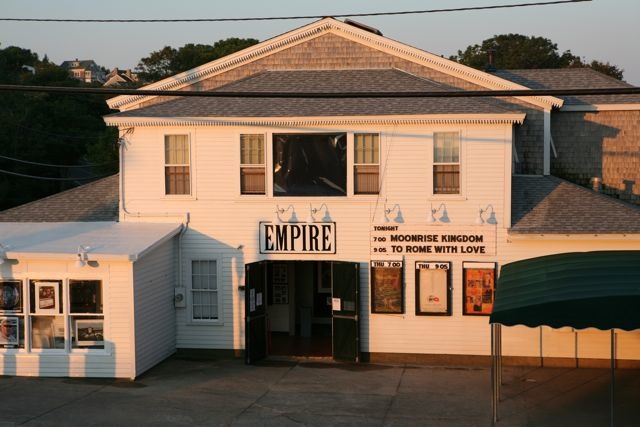 "Cinema Paradiso" is the story of a classic small-town movie theater that played an oversized role in knitting a small Italian community together. The Empire Theatre has performed a similar role on Block Island for most of its 131 years.
And now owner Gary Pollard, who has run the classic cinema since 1992, is asking patrons for help to keep the small theater alive on the island. To keep the films rolling for the children and grandchildren of year-rounders, for summer residents and visitors who love to watch films in his old-time theater, he must spend a hefty sum of money for new digital equipment.
To fund a new projector, Pollard is launching a Kickstarter campaign on July 6 to raise $55,000 for new projection equipment that will take the Empire into the future. (Kickstarter is what is known as a crowdfunding site, which allows people to donate to a project they'd like to support.)
The movie industry has moved beyond 35-millimeter film. Films are now sent out to theaters through a digital system that allows theaters to download a file. Digital films can be far less expensive to ship and project than film. Large multiplex cinemas are being given a 70 percent subsidy by the film industry itself to replace 35 millimeter with the expensive digital upstart.
Such is not the case for smaller independent theaters like the Empire, often located in downtown areas of cities and towns across the United States. For these smaller theaters, the film industry had no such deal. The indies had to start their own campaigns and raise the dollars needed. Really, they have no choice. Theaters that decide not to make the change will have to close their doors at the end of 2013 because celluloid will simply no longer be available.
On Block Island, no one wants the Empire closed, least of all Pollard. He will raise a banner above the marquee July 4 weekend, which tells patrons about the all-important, all or nothing, Kickstarter campaign. That's the way Kickstarter works. If he doesn't raise the entire goal of $55,000, he doesn't get any of the donations. The theater that he has so carefully and vibrantly brought back to life will also at some point this summer host an onsite fundraiser (in conjunction with Kickstarter) to draw attention to the campaign.
And when purchasing tickets this summer, patrons will be given a reminder. Each will be handed a postcard featuring a classic old photograph of a horse and buggy pulled up in front the theater. On it will be information about the Kickstarter campaign and how to contribute.
"This place has been showing films for a long time; in fact, since 1905," Pollard says, "and before that there was live theater and vaudeville, and before that, roller-skating."
Only once in all those years did The Empire go dark and that was in 1986. The business remained closed for seven years until Pollard bought it, restored it, and brought the fun and joy of good cinema back to Block Island.
The Kickstarter campaign ends on Sept. 3. There must be a lot of people out there who love the Empire, besides the residents themselves. There are all those boaters who enjoy a few days or a week on the Great Salt Pond or rafted up together in Old Harbor. There are those who visit the inns, bed and breakfast places or who rent houses here for the summer. And there are all of those people with memories of visiting this theater in days gone by. Surely all would hate to see it close its doors and go back to… roller-skating?
Here is something to contemplate. Though The Empire is not a non-profit, what it gives back to the local community is worth thinking about. Start with the entertainment, the opportunity to seen first-run moves at this classic site. On top of that, there are the rainy day events for children. With the new equipment, Pollard could stay open into the shoulder seasons and show more films, maybe into November, depending on the weather.
In the winter, when the Empire must close because it is not heated, the newer portable projection system can be moved to a heated space, making year-round cinema a reality on the island, he said. Also through this new age of digital, Pollard can tap into live, theater-to-screen presentations from places like La Scala Opera House in Milan, Italy or theaters in London. The owner says the digital age has opened doors to collaborations only dreamed of in the era of 35-millimeter film.
Pollard's family has now joined Block Island's year-round community. They have moved from New York, a city over-abundant with cinemas of all shapes and sizes, to an island where winter entertainment is very much on the quiet side. When the winds howl in January, residents hunker down at home and hope the ferry will run in the morning. A year-round theater, even if it is partially a mobile one, seems a welcome diversion.
The historic cinema will open its doors again for the 124th time on June 28 (there were those seven years when it went dark). The first film will be "Man of Steel" — the new Superman reboot — and if you buy a ticket look carefully at the postcards that will accompany the tickets themselves when you go to see a film. Patrons truly will decide the future of this local cinema, and they will decide this summer.
One patron compares the meaning the Empire has to Block Island to what Fenway Park means to Boston: "The island would not be the same without it," he says on the Empire website.
What will be the outcome? Will Block Island's indie theater-goers help Pollard rise to the challenge with which he is faced; much as patrons of the Jane Pickens Theater in Newport did recently? Or will the Empire, like the Cinema Paradiso in the classic film, fade into history?
You decide.