But the digital age is around the corner
By Leah Welch | Jul 22, 2013
This article is reprinted with permission from The Block Island Times. Photo by: Kari Curtis Leah Welch stands by the Empire Theatre's 35mm projector.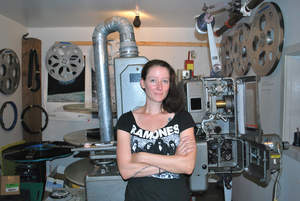 The Lumière brothers began entertaining crowds with reels of celluloid through a hand-cranked projector — the cinématographe — right before the turn of the last century. The brothers outfitted 24 men with their invention and sent them into six continents to capture and show the images from these places. They filmed the power of Niagara Falls, the Wright brothers' flights in North Carolina, and the first official new Olympic games.
About 100 years after the Lumière brothers presented their machine to the world, I became a projectionist. It's a trade — a skill I accomplish with my hands. I take the head of the 35 mm film that runs at 24 frames a second and guide it through my machine. It moves like an agitated snake off the platter and through a set of rollers called "the brains." Then it winds through the picture head, the film gate trap (this allows the lighthouse to project the image through the lens and onto the screen), to the sound head, around the drum, and then back to the platter. On a good day and with the right machine, I can do this in 49 seconds — a fact that only impresses a few.
I learned to be a projectionist from my manager, Dave Armstead, at Cinemark Theaters in Zanesville, Ohio. Armstead told me that those projectors had functional parts from the 1930s. I ran 10 projectors simultaneously. I was good. I cared for my machines, knew by sound when a film was scratching against a roller or was beginning to "brain wrap," a term used for when film winds around the brains too tightly and threatens to rip through a projector. I had duties that included emptying out our cat litter trays that helped catch dripping oil from our projectors, cleaning out the machines with Q-tips, rubbing alcohol and painter's brushes, and going to all 10 screens with a giant brush or baby diapers to clean off the dust, cobwebs or soda pop.
I loved the people I worked with: college kids like me, or almost-out-of-high school ushers who in their spare time worked on cars and chased girls. When I opened up in the morning, Armstead and I would sometimes picnic in the lobby eating donuts and Taco Bell. Movie theater workers get an hour break for lunch or dinner because of the movie schedule and so my crew would sit in the back of the auditorium on the floor watching parts of movies and eating free popcorn. It was a young person's ideal job.
After a move from Ohio to Pennsylvania, I ended up living in Virginia training for stunt work with Grand Master Dean Pyles and his family. He was a man I met while filming the movie Warrior in Pittsburgh. When I settled into his house and our routine of working out for six to eight hours a day, I went straight to the local movie theater. I figured I possessed a unique skill, and equipped with it I applied and got the projectionist job running a three-screen movie house.
The perk of this job was that the manager gave me keys to the building and permission to watch films any time, day or night. From September to December of that year, I watched every new release at 2 a.m., alone in a pitch-black theater emptied of texters and talkers. It was a pleasure that spoiled me.
One of the strange quirks of running movies at that house was that the film would often brain wrap because of the static in the air – it was something I've only ever encountered in the Blue Ridge Mountains. The solution the manager found was to use static guard aerosol and to keep the A/C running through the winter months. It was typical to find the other projectionist, a retired high school football coach — who only took the job for the free movies — wearing his cardigan, covering his mouth and spraying down a film mid-way through a movie.
After a move back to Ohio, and a car accident that left me having to learn to walk again, I decided to go back to grad school in Pittsburgh. I figured my record was good and so I applied and got a projectionist job in Monaca, Penn. It was a 12-screen movie house run mainly by projectionists-turned-managers, Ryan and Andre. These two guys taught me more than anybody else about projecting. They were fresh into their 20s, fun, and very smart. If the industry wasn't converting to digital projectors, these two guys would have become theater technicians — a job that has a skilled projectionist trained in the maintenance and repair of the machines.
Ryan and Andre taught me how to build a digital playlist, how to fix a brain wrap by disengaging the motor and spinning the platter backwards, and running razor blades up the tension bands to remove compacted film dust. I can tell when I love doing a job because I'll sing and make baked goods. Every week I brought in cookies, muffins, pies. Because of the gas prices and the hour's distance I transferred to a closer movie house that needed a projectionist.
It was an 18-screen with an IMAX. Stairs led to at least three of the projectors and the projectors were housed in two different parts of the multiplex. The theater originally had two projectionists running each side but cutbacks led to only one projectionist running from one part of the building to the next, up and down stairs, often times trying to start two different films with the same start time in opposite parts of the building. A month of this with my bad knees had me crying on the stoop to my apartment complex because I was unable to climb my stairs after a shift. I quit; a few weeks after that they went under new management.
I thought I was done. The approaching conversion to digital had me thinking that I was obsolete: that after three states and four projectionist jobs that was a part of my life with a closed door. But then a craigslist ad had me hoping.
Projectionist/Manager wanted for summer season for historic single screen movie theater on Block Island, R.I.
I wanted it. I had gunned for it since 2007 but not until now have I had a summer free. Gary Pollard and his wife Jessica gave me a Skype interview on Easter Sunday and a week later he offered the job to me with a start date in late June. I packed up my bags and my brother and I long-hauled it from Cambridge, Ohio, took the hour-long ferry ride over and met my boss face-to-face.
It's a last hurrah in a more vast and sadder good-bye. It will probably not only be my last time as a projectionist, and the last time for 35 mm to run through a projector at The Empire Theater. But the chatter online is that U.S. production of 35 mm film ceases at the end of 2013. Pollard is already trying to go digital with his Kickstarter campaign, and if it fails the theater probably won't show movies anymore. It's a story that other smaller movie houses are dealing with as well.
Labor Day is my last day as a projectionist and then I'm moving to Los Angeles. I've driven to almost all of the continental United States and every movie house I visit I ask to see their projection booth. I've gotten free movies from talking shop in Oklahoma, Washington D.C. and Shreveport, Louisiana.
I would like to think that maybe I could get a film archival position at a museum or university, but that doesn't replace that feeling of taking 7,200 frames of film into my hand and running it through a projector, then watching the tail of the film snake through the machine at the movie's end and coil into itself back onto the platter with the heat of the lamp house burning up the booth.